Post by nighttimer on Apr 3, 2019 19:23:10 GMT -5
Regardless, I'd note that the most outspoken Donald Trump critics--who also happen to be male--seem to be quite adept at googling up nekid pictures of the First Lady (I don't want to know what they're doing with those pictures in their moms' basements), while others openly gawk at her.
The below, from Nighttimer, is incorrect:
Women in politics are going to be judged by how they look first and what they have to say a distant second.
Fact of the matter is that this is true
in general
, for an awful lot of people (not all of them men, either).
But men in politics get judged on how they look, too. Certainly not to the extent that women do, however. But I remember a fair amount of swooning over Obama's looks, especially when the shirtless pic of him was getting tossed around on social media.
Now that there is some straight-up smelly bullshit.
Men in politics get judged on how they look, too? WTF are you smoking?
NOBODY
but the sickest of sick-ass fucks is trolling the Internet for a shirtless pic of a 72-year-old Donald Trump.
Who
wants to see that flabby gut?
Who
wants to see those saggy man-boobs? Your comparison is absolute hot garbage burning in a dumpster,
robeiae
.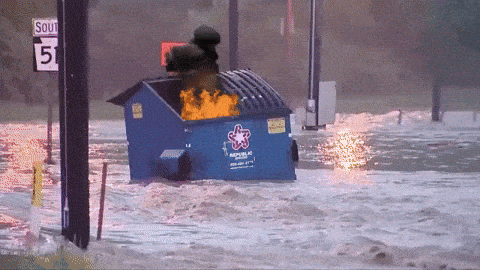 I'm of the opinion that this whole "leap to the defense of O-C because she's a woman (or a woman of color)" is patently misogynistic as a matter of course. Ocasio-Cortez is an adult and an elected representative. She owns what she says publicly, same as any other pol or celebrity. So it's fair to criticize what she says (while it's not fair to criticize what she wears or to criticize old YouTube vids of her having some fun as a college student). I don't find this to be a particularly difficult distinction to make.


Of course you wouldn't find it a difficult distinction. But it's still a stupid distinction.
There is nothing patently misogynistic about defending a Latin woman from the attacks of White men who call her dumb, ignorant, stupid, uninformed and worse. The misogyny is all yours, but it's really not your fault. You can't help how you were socialized. You have no clue how people of color have to navigate their way through places which have been enclaves of White males. You're simply ignorant of how treacherous it is to move through a system that was never designed for you. When you're the only White guy in an All-Black place, maybe then you can holla at me. Until then? You don't know squat about it.
It's not that as though you're going to stop pushing in this naive, dishonest idea that every politician is subject to the same degree of scrutiny since they're all politicians. That's
never
been a standard you've ever held conservatives to.
You rag on her in a way you have never ragged on certifiable G.O.P. fucktards like Matt Gaetz, Louie Gohmert, Marsha Blackburn, James Imhofe, Cindy Hyde Smith, Ted Cruz, and White Supremacist Shithead Steve King. I recalll how you refused to even entertain an honest debate over the verified bigotry of Ron DeSantis. But when it comes to peeling the skin off of AOC as if she were an apple? Oh, you're all in for that.
Beyond that, I think she's attractive. I think Melania Trump is attractive, as well. I don't see a problem with noting that, playfully or otherwise.

There's so much wrong with that statement. Yet to even attempt to explain how its wrong would be a colossial waste of my time, so I'll pass on commenting any further.

That said, sexualizing her for purposes of criticizing her is unfair (though it's also unfair when it's done to Melania).

The difference of course is Melania Trump
knowingly and willingly
posed for soft-core pornography that Trump ally Rupert Murdoch published in his wank rag,
the New York Piss Post
, whereas Alexandria Ocasio-Cortez has not (except for the vivid imaginations of right-wing perverts) and there's nothing "unfair" about pointing how Trump's trophy wife willingly exploited herself.
Your false equivalency is bullshit. Your comparison is bullshit. You are trying to hold Ocasio-Cortez to a standard that will not and can not apply to her. And this is why you flair and fail,
robeiae
. You're The Colline Gate's version of
Tucker Carlson
. A poseur, a fake, a phony and just as transparently inauthentic.