Post by CassandraW on Oct 16, 2018 16:01:01 GMT -5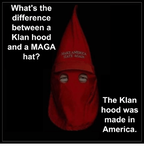 I don't dislike her, I think she's done some good stuff, I think she cares about her constituency, and as politicians go, she's not corrupt. But she's absolutely
not
the person to rally the Dems to victory in 2020.
You're dreaming. You really think being snarked at by sexist pigs like Trump, Graham and Hatch---after the way they dragged Dr. Blasey Ford through the mud and got away with elevating a creep like Brent Kavanaugh to the Supreme Court---is now a disqualifier for Liz Warren in 2020?
Think again. There's nothing coincidental in the way the Right has trained its fire on Warren. They read the same articles I do including the
one from CNN yesterday where Warren is the leader of the 2020 Democratic pack.
1. Elizabeth Warren: The case for making Warren No. 1 has, if anything grown stronger since last month. She's well on her way to an easy reelection, and the political environment among Democrats, if anything, is even more geared toward selecting a woman nominee following the Kavanaugh hearings. Warren's progressive and anti-corruption bonafides are a good fit for a Democratic electorate that is moving to the left and seems to want to fight the Trump machine. (Warren recently got into it with White House chief of staff John Kelly.) She is running for reelection under the Democratic brand, unlike Sanders in Vermont, which will likely make her more palatable to the establishment.
The last thing--
the very last thing I want to see in 2020
--is another safe-as-milk, bland, boring-ass mainstream corporate Chuck Schumer type of Democrat on the presidential ticket. Maybe Warren fucked up by responding to Trump's taunts. Maybe Warren thought she'd take time out from cruising to reelection next month to devote some of her time and attention to shutting up Trump with facts.
That was her mistake. Trump is fact-adverse and so are his legion of zombies. They make up their own facts and ignore all others. Eff them. That's what Warren should have done.
But since she didn't, is that a way to put her presidential aspirations in the dumpster?
HELL NO.
The Left is so eager to eat their own the first time they royally fuck up. The Right doesn't give a damn. Liberals want their politicians to be pure. Conservatives just want them to win.
I don't believe in purity tests, and it's not a matter of her being too liberal -- not from my point of view.
It's a matter of:
(1) I think she turns off too large a percentage of voters (her, more than her politics) to be a viable candidate in 2020. My primary concern is beating Trump. We need a candidate who can do that. I don't think it's her. She's got all the perceived baggage and likability problems Hillary had, only she's far more liberal. We need all the liberals, but we also need the moderates who don't like Trump to come out and vote. I'm pretty confident she'd keep all but the dyed-in-the-wool liberals home. We need more than that.
And no, I'm
not
talking about getting someone c.e. or Mikey might vote for. I'll agree with you right up front that anyone sold on Trump at this point is NEVER going to cross that party line. But ideally, I
AM
talking about getting someone that, say, Rob might vote for. Don't scoff, NT -- If I'm correct, Rob voted for both Obama and Bill Clinton. There are Democrats out there -- and Democrats we'd like too -- that people like Rob would say "huh, I could live with that, I'll vote for that person." My mom is another example -- she crossed the line for Obama. I know a few independents who voted Clinton and/or Obama, but they went third party this last election. I don't want them doing that this time around.
And surely we should pick a candidate that the Optys and Amadans of the world can rally behind. Despite their dislike of SJWs, both of them lean liberal on most stuff, but I don't think either of them are "Democrat or bust" people -- they're people who are willing to go third party. People like them shouldn't even for one second consider staying home or going third party in 2020. Warren, I dunno.
I think it's not a matter of finding someone bland. I think its a matter of getting someone with that magnetism that Bill and Barack had -- that's a special quality that can cut right across party lines and pull people in. To my mind, Beto O'Rourke is an example of a Democrat who is actually pretty damn liberal but has that quality, which is why he's giving Cruz a run for his money. Maybe he's not the guy, maybe he is, but we need a candidate like that, IMO. And I don't think Warren has that quality, unfortunately. Liberals like her, but the closer you get to the center, the less that's true. I know lots of center left loyal Dems who are very meh on her. They'll vote for her, yes, but their "meh" is indicative of the problem she'd face as a candidate.
(2) I truly think that this DNA thing -- in general and at this moment in time -- showed that unfortunately, Warren is not going to be a woman who runs a campaign that hones in on Trump's defects and just what it is the Dems have to offer Americans. We have plenty, actually -- especially right now. But we need a candidate who will disregard the nonsense and the noise and the ugliness and hone right in on the message.
I don't think she'll do that. I think she'll take the bait, again and again.
(3) Unfortunately, Warren is EXACTLY the kind of candidate that will get the right, including the center right, whipped up into a voting frenzy. You want to get center-right people who don't care for Trump to vote for Trump in 2020? Warren's the candidate to choose. (Bernie too, IMO.) Me, I want all those conservatives who don't like Trump, if they can't bring themselves to vote for the Dem candidate, to at least stay home or go third party. Pick someone who at least doesn't repel them, and I think many of them will. Unfortunately, I think Warren will fire them up to vote Trump.
Personally,
I'll
vote for whoever the Dem candidate is in 2020. If it's Warren, I will surely vote for her and send her a campaign contribution to boot. But more than anything, I want a candidate I feel confident can beat Trump, and I don't think it's her.