Post by nighttimer on Nov 9, 2018 11:04:47 GMT -5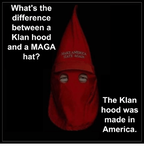 Because I choose to smoke cannabis, I'm guilty by association "for all the bad stuff caused by the illegal drug trade
AND
the war on drugs" to boot? Damn, that's a pretty big rock to put on the shoulders of the casual smoker.
It certainly is a "pretty big rock." You're not following, at all. I prefer direct responsibility, as a matter of course. If some drug dealers robbed and killed some other drug dealers, or even robbed and killed some innocent people, that's on them, the drug dealers, in my view.
But if one wants to argue that those deaths--and all of the others associated with the illegal drug trade--should be blamed on the government and/or specific people in government for making pot (or other drugs) illegal, then it's perfectly fair to also blame the people buying and using illegal drugs for creating the demand for the same. Clear?
As. Crystal. And I still find your argument to be absurdly specious.

What John Ehrichmann and the Nixonites did was to come up with a scheme to stick it to the hippies, stick it to the Blacks and stick it, stick it, stick it deep, hard and without lubricant to the enemies of a president who was a vicious, cruel, paranoid misanthrope. Drug addicts were not consulted. Neither were casual drug users and certainly the millions who use medical marijuana or other drugs for pain management and other issues are not culpable in filling up the prisons, promoting narco terrorism, or the current opiod crisis.
A kid sparks up in his buddies bedroom bears no culpability for how
Ronald Reagan and the CIA and the Contras and the drug dealers
all got together to cut a deal and flood the inner cities with crack and the suburbs with coke. With all the misery and mayhem the U.S. government has wreaked on other nations to feed this country's insane lust for drugs and money, the War on Drugs is, was, and always will be among the sickest of sick jokes ever played upon the populace.
It is one of the morally upright's favorite pastimes to wag a disapproving finger at the flaws of others while asserting they have none themselves. For my part, I will do what I please when it pleases me and as long as I am not forcing my pleasures on anyone else I do not care whom is displeased.
I can see an argument where it might be unjust if, as Don suggests, the law is passed by people who intend the law to adversely affect certain groups of people, and it does in fact do so.
But I agree with you that the comparison to the Holocaust is not well taken. I also agree with you that if indirect harm can be attributed to state actors who passed/enforced/supported those laws, then it can also be attributed (in some small portion) to those who use the illegal drugs, because they are creating the demand.

The obsessing over Don's use of the world, "holocaust" has gone from being a perhaps ill-conceived bit of hyperbole to something to flog him repeatedly at the expense of giving him any credit for presenting a cogent argument about the illegitimacy of drug enforcement programs. Nobody needs a reminder of how much and how often Don and I disagree, but at this time and on this matter, I largely concur with his conclusions.
Regarding obeying and complying with unjust laws, that's a crock. MLK wrote in his legendary Letter From A Birmingham Jail, "
Any law that uplifts human personality is just. Any law that degrades human personality is unjust. One has not only a legal but a moral responsibility to obey just laws. Conversely one has a moral responsibility to disobey unjust laws.
"
Case in point:

The treaties and laws governing how drugs are regulated by nations were, for the most part, written a half-century or more ago. And while the science surrounding drugs and drug use has advanced rapidly over that time, the laws have barely evolved.

As a result, there is little correlation between the dangers of various drugs and the stringency of laws regulating their use. That disconnect is abundantly clear in the diagram below, which comes from a new report on world drug use by the Global Commission on Drug Policy, a group that advocates for less-punitive drug laws.

In a 2007 Lancet study, drug policy experts assessed the potential harms associated with using various drugs, using the latest available research to come up with a total measure of "risk" for each drug.

Cannabis (marijuana), for instance, is a relatively low-risk drug: There's no chance of overdose, and rates of addiction are relatively low. Heroin, on the other hand, is extremely dangerous: deadly in high doses and very addictive, to say nothing of the dangers posed by potential adulterants that dealers and traffickers often add to their products.

In a purely rational world, you'd probably regulate cannabis and heroin very differently: One is quite deadly and damaging, the other much less so. But under international law, as set by the 1961 U.N. Single Convention on Narcotic Drugs, the two substances are for all intents and purposes equivalent: They fall under the strictest category of regulation, reserved for substances with no medical use and a high potential for abuse.

The U.N. Single Convention sets the terms for how countries regulate drugs within their borders. Generally speaking, the countries that are party to it — nearly every country in the world — abide by it. If the treaty says that cannabis and heroin are equivalent drugs, that becomes the de facto position of most of the world's governments — regardless of what the science says.

Here in the United States, for instance, the Drug Enforcement Administration didn't officially acknowledge until 2015 that marijuana is less dangerous than heroin (the drugs do, however, remain classified the same under federal law).

On the other hand, alcohol and tobacco are much deadlier substances than we usually acknowledge. Excessive drinking kills upward of 88,000 people in the United States each year, while tobacco is implicated in nearly half a million fatalities — most because of long-term health issues — each year.

Both substances are highly addictive, alcohol use is closely associated with violent crime, and some research indicates that both substances may serve as "gateways" to more lethal drugs, such as heroin. But neither alcohol nor tobacco are regulated under international drug treaties. They remain legal to purchase and consume in most countries, subject to modest restrictions, such as age limits, depending on locale.

In recent years, certain places have started updating their laws to restore a sense of proportionality to the way they regulate drugs. In 2012, for instance, Bolivia withdrew from the U.N. drug treaty to lessen restrictions on coca leaf — a traditional stimulant that also happens to be the raw material for making cocaine. The rejoined the treaty in 2013, claiming an exception for coca leaf chewing.

In Uruguay, as well as in a number of U.S. states, marijuana is legal for recreational use. Such moves have prompted some saber-rattling from the United Nations but nothing in the way of serious repercussions.

As of 2016, according to the Global Commission on Drug Policy report, roughly a quarter of a billion people worldwide used drugs that were illegal. Nearly 90 percent of them did so without experiencing addiction or diagnosable problems related to their drug use.
90 percent? Seems to make a strong argument that keeping marijuana illegal and illicit is pretty stupid when tobacco and alcohol are legal and destroying thousands of lives every day. It makes an even stronger argument that America's drug laws aren't only unjust, they're stupid.